Hey, parents, have you started to find yourself in the midst of "I'm Bored" territory with your kids. I know I have been hearing it a lot more lately but no worries because I have the perfect way to get your kids entertained. How about some free\fun Sonic The Hedgehog printable activities!!
With the film available now for Digital purchase, and arriving on 4K Ultra HD, Blu-ray, DVD and for rental on demand or disc May 19. this fun free printable Activity book is sure to keep your little hedgehog happy and entertained.
About Sonic The Hedgehog
Powered with incredible speed, Sonic the Hedgehog aka The Blue Blur embraces his new home on Earth. That is until he accidentally knocks out the power grid and sparks the attention of super-uncool evil genius Dr. Robotnik. Now it's super-villain vs. super-sonic in an all-out race across the globe to stop Robotnik from using his unique power for world domination. Sonic teams up with The Donut Lord, aka Sheriff Tom Wachowski, to save the planet in this action-packed hit that's fun for the whole family.
My Thoughts
I must admit going into this movie I wasn't sure what to expect. I mean turning a video game into a movie seemed a little far fetched. But I was completely wrong. Not only was the plot better than I had ever thought it could be Jim Carrey once again blew me away with his comedic talent.
The story from start to finish was filled with laugh out loud moments, action that left you sitting on the edge of your seat and some very heart warming moments that had me sniffing back a tear or two. This is definitely one of those movie for the collection to be seen again and again.
Free Fun Sonic The Hedgehog Printable Activities!!
To get your free fun activity book simply click on the photo or download the entire book by clicking HERE!!!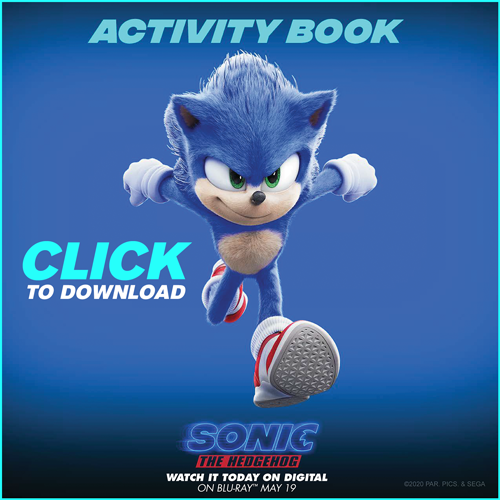 BONUS FEATURES ON DIGITAL*, 4K ULTRA HD COMBO, & BLU-RAY COMBO
Commentary by director Jeff Fowler and the voice of Sonic, Ben Schwartz
Around the World in 80 Seconds—See Sonic's next adventure!
Deleted Scenes—Director Jeff Fowler introduces deleted scenes
Bloopers—Laugh along with Jim Carrey and the cast
"Speed Me Up" Music Video
For the Love of Sonic—Jim Carrey and the cast discuss what Sonic the Hedgehog means to them
Building Robotnik with Jim Carrey—See Jim Carrey bring supervillain Dr. Robotnik to life
The Blue Blur: Origins of Sonic—Explore the origins of the legendary Blue Blur
Sonic On Set—Visit the set with the voice of Sonic, Ben Schwartz
Sonic the hedgehog on Digital NOW!! and 4K Ultra HD, Blu-ray, DVD and for rental on-demand or disc May 19.
Other Free Printable You May Enjoy